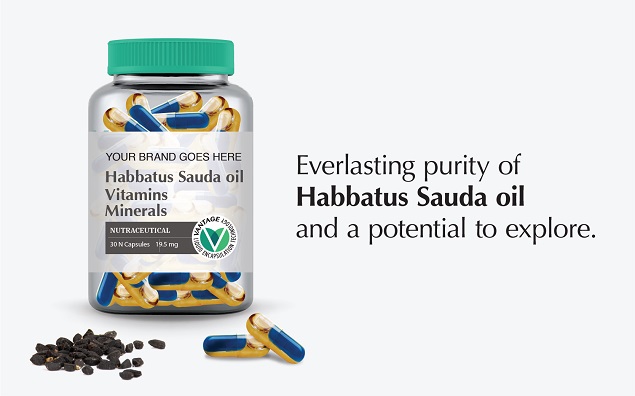 Everlasting purity of Habbatus Sauda and a potential to explore
Immunity and holistic health have become the buzz words in today's times. There has been a growing demand for natural supplements among health-conscious consumers who follow a diet and regime to attain their fitness goals. We at Vantage Nutrition are here to help reach their goals through your reliable nutraceutical brands.
In Islamic & Koranic medicine, the blackseed is known as 'Habbatus Sauda, which means the seed of blessing. We together can help deliver the blessing in a capsule around the globe. Habbatus Sauda has been used for more than 3000 years for healing. Studies have shown that thymoquinone, the active constituent in Nigella sativa (black seed/kalonji), is an immunity booster, antioxidant and anti-inflammatory agent and has a potential anti-viral activity.
Many blackseed oil based products are now ready with Vantage Nutrition. Our new product range has been formulated using naturally extracted blackseed oil, rich in thymoquinone (5%). It is encapsulated in its pure form not only offers greater bioavailability than tablet or powder but is also a striking departure from these conventional formulations (of thymoquinone) already flooding the market.
With proven expertise and experience in everything from product development to full manufacturing capability, we will provide you with complete support and all the necessary assistance for commercialisation to help you get to market fast.
Partner with Vantage Nutrition Expand your portfolio
Expand your portfolio
Avail concept-to-counter service
Get off-the-shelf and custom concepts
End-to-end Product Design Assistance
Formulation & Development
Packaging Design
Stability Design
Regulatory Assistance
Commercial Manufacturing
Read our article to know more on the benefits of Habbatus Sauda.